Guide to Automated Sortation Technologies
16/08/2023 | Share: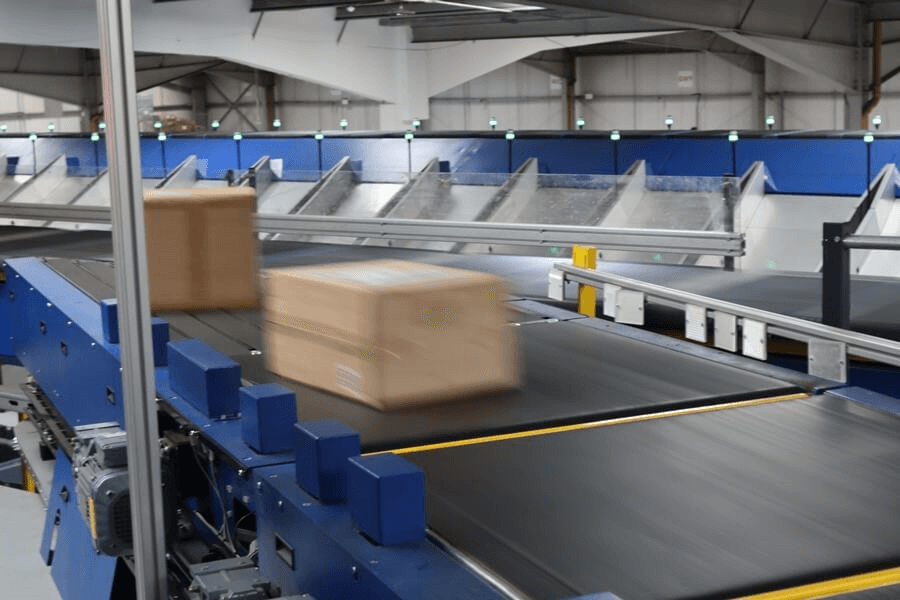 Automated parcel sorting can save a huge amount of time and costs. From infeed lines to sortation chutes, automated sortation can significantly reduce manpower and costs, improve label read rates, and product identification.
There are several automated sortation technologies available on the market, each designed to meet specific needs and requirements in the logistics and distribution industry. These technologies streamline the process of sorting and routing items, enhancing efficiency and accuracy. Here are some of the different automated sortation technologies:
Wheel Sorters: Wheel sorters use a series of turning wheels and diverters to transport items to their designated destinations. They are versatile and can handle a wide range of items, making them suitable for e-commerce and retail distribution centers. Perfect for handling items that are difficult to sort using other methods.
Sliding Shoe Sorters: Sliding shoe sorters use a sliding mechanism to divert items off the conveyor. They are known for their gentle handling of items and are often used for fragile or delicate products.
Pop-Up Sorters: Pop-up sorters use a series of wheels or rollers that rise up to move items onto the appropriate chute. They are efficient for mid-throughput applications and can handle items of various sizes and shapes.
Tilt Tray Sorters: Tilt tray sorters consist of trays that tilt to drop items onto the appropriate chute. They are ideal for small items and can handle high capacities.
Cross-Belt Sorters: Cross-belt sorters utilize small belts mounted on carts that move perpendicularly to the main conveyor. They are suitable for handling high volume of standard items.
Pusher Sorters: Pusher sorters use pusher arms to move items off the conveyor onto a chute. They are simple and low cost solutions for moderate sorting needs.
Robotics and Autonomous Mobile Robots (AMRs): Robots and AMRs are increasingly being used for sorting tasks. These systems can adapt to changing layouts and handle a variety of items, making them versatile options.
Linear Sortation Systems: Linear sorters use a series of diverts and conveyors to move items to their designated destinations. They are flexible and can be customized for various applications.
High-Speed Loop Sortation Systems: These systems use a looped conveyor to sort items at high speeds. They are often used in large-scale distribution centers and postal facilities.
The choice of automated sortation technology depends on factors such as the type of items being sorted, sorting volume, space constraints, speed requirements, and budget. Many modern systems incorporate advanced technologies like barcode scanners, RFID, and software solutions for real-time tracking and reporting, further enhancing their efficiency and effectiveness.
Scaletronic is a leading manufacturer of parcel sortation systems.  Get in touch with our knowledgeable team to learn more!